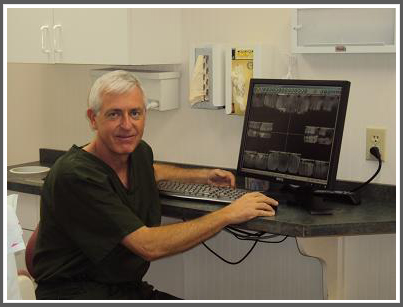 Dr. White was born in Atlanta, Georgia sometime during the first Eisenhower administration. His father was a pediatrician, and his mother a nurse, so he got the doctoring bug early.

After graduating from high school, he studied Biology at the University of Georgia, Emory University, and Vanderbilt University from where he graduated in 1977.

He attended Emory University School of Dentistry and received his doctorate in 1982.

After dental school, Dr. White enlisted in the US Army as a dental officer and spent the next four years treating the troops in New England. During his army stint he received both the Army Achievement Medal and the Army Commendation Medal.

He returned to Georgia in 1986 with a wife and two children, and found an abandoned dental office in Ashburn, Georgia, where he set up a new practice to care for this small agricultural community. He never left.

Dr. White strongly believes that every patient, regardless of his or her status, deserves the finest dental care that he is capable of delivering. He is here to serve the people of Southwest Georgia, and will do everything in his power to make your visit a pleasant and rewarding experience.


Dr. White has almost 30 years of clinical expertise. He is proficient in all aspects of dentistry, from pediatric to adult to geriatric. The gamut of treatment he routinely performs ranges from periodontics and minor orthodontics to complicated endodontics and oral surgery, and to his favorite, cosmetic dentistry.

Dr. White would love to improve your smile.
---
274 Whittle Circle
Ashburn, GA 31714
229.567.4316